Top 8 Things to Consider When Choosing a Parts Washer by PSI Colorado Springs
March 11, 2020
Finding the parts washer that will work perfectly for you and your business can be tough. There are plenty of models, different brands, and different specifications to choose from—and it might take time to find the right one. And so, to help you select the right parts washer faster, we have compiled a list of the most important things that you need to consider.
1. Decide if You Need Manual Parts Washer or Automated
There are key factors that you need to think about when choosing between a manual parts washer or an automated parts washer. For one, you need to know the type of contaminants that you will be dealing with. You also need to keep in mind the size range and the average weight of the items that you will be cleaning as well as their volume.
A manual parts washer, the commonly used style in the industry, is ideal for low volume cleaning and smaller items. This is also the right one for you if you will be dealing with contaminants that are easily removed with low pressure and simpler cleaning agents like a brush. Generally, it is cheaper than the automated version.
An automated parts washer, on the other hand, has the ability to clean faster and at higher volumes compared to a non-automated parts washer. It is also ideal for hard-to-remove contaminants. It may be more expensive at first, but it helps lessen the costs of manual labor which will eventually bring more profit to your business.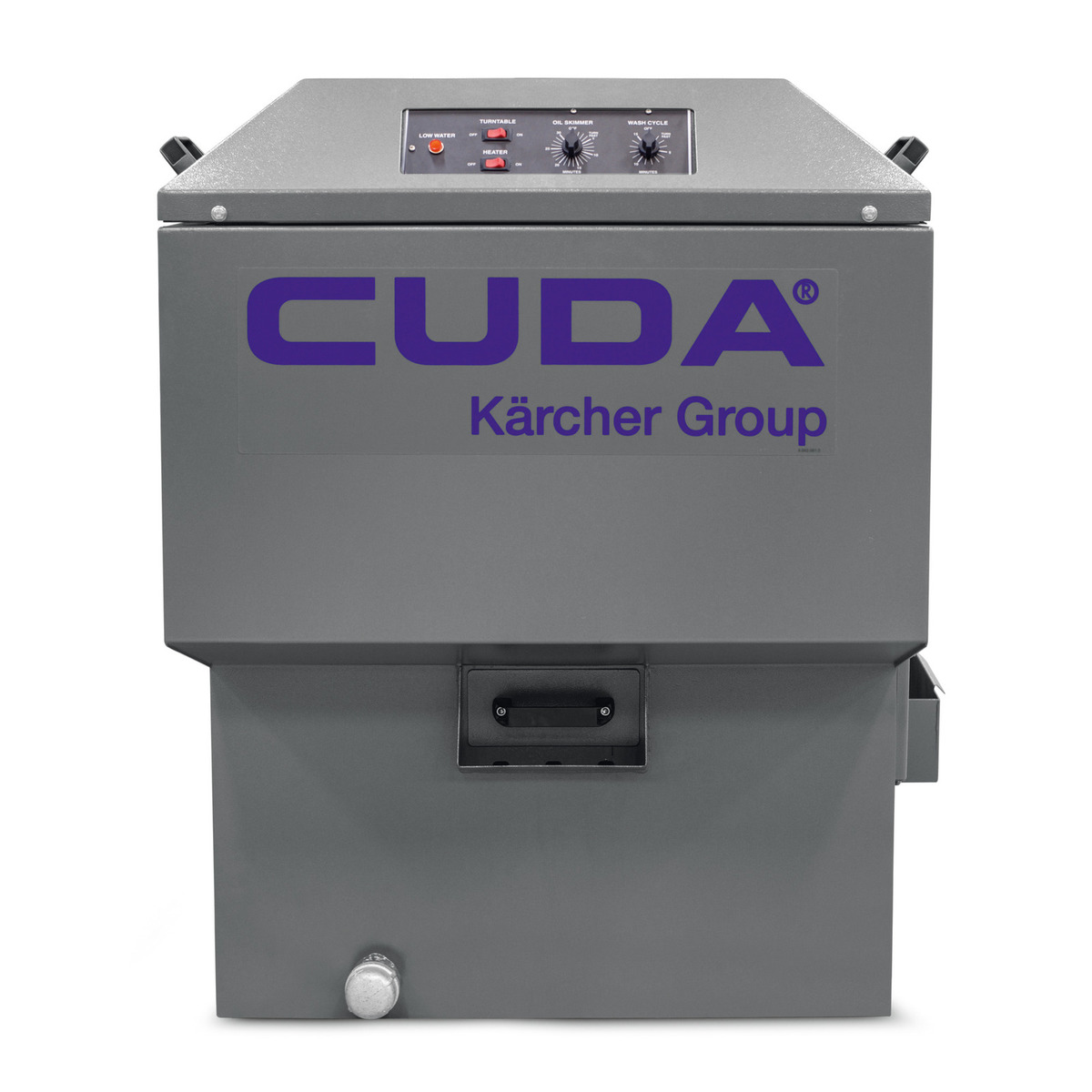 *This automated CUDA parts washer gets the job done fast. (Image source: Karcher) *
2. Choose Your Preferred Cleaning Fluids
The parts washer needs a cleaning fluid to make it work efficiently. This is why you also need to consider the type of cleaning fluids to be used. The most common types that are used in parts washers are solvent and aqueous, also known as water-based.
If your business is in the repair and maintenance industry, then your preferred cleaning fluid might be a solvent. A solvent can take care of a wide variety of contaminants. It also acts quickly and it does not need drying. However, you need to be wary of proper solvent disposal and handling procedures.
Aqueous cleaning fluids, on the other hand, are considered generally safer than solvents, but they need to be heated in order to work properly. They are ideal for industries with fewer incidents of contamination than that of the repair and maintenance industry. If you choose this type of cleaning fluid, then your parts washer should be able to heat up easily or maintain a temperature of 170 to 175 degrees.
In addition, if you will go for an aqueous parts washer, you should ask for the GPM or gallons per minute specifications of its pump rather than the horsepower. Often, the sales staff will notify you of the horsepower, but it is not indicative of an aqueous washer's efficiency. Aqueous washers are dependent on volume and not pressure, so the higher the GPM, the better.
3. Be Mindful of the Reservoir Size
Large reservoirs in parts washers used to be a product highlight. The larger the reservoir, the longer the period of running time for the parts washer is before the oil saturation point is reached. Once that point is reached, however, the unit needs to be drained and cleaned or else oil will contaminate the areas being cleaned.
Nowadays, oil skimmers are already available which makes large capacity reservoirs a deterrent. They are no longer as useful as before and heating them up will only add to the operational costs.
4. Look for Simpler Designs
An efficient parts washer does not need to have a complicated design. In fact, the simpler the design, the better. It must be easy to operate, and also easy to troubleshoot should the need arise in the future.
The general rule is, if the design is too complicated for you, then go find something else.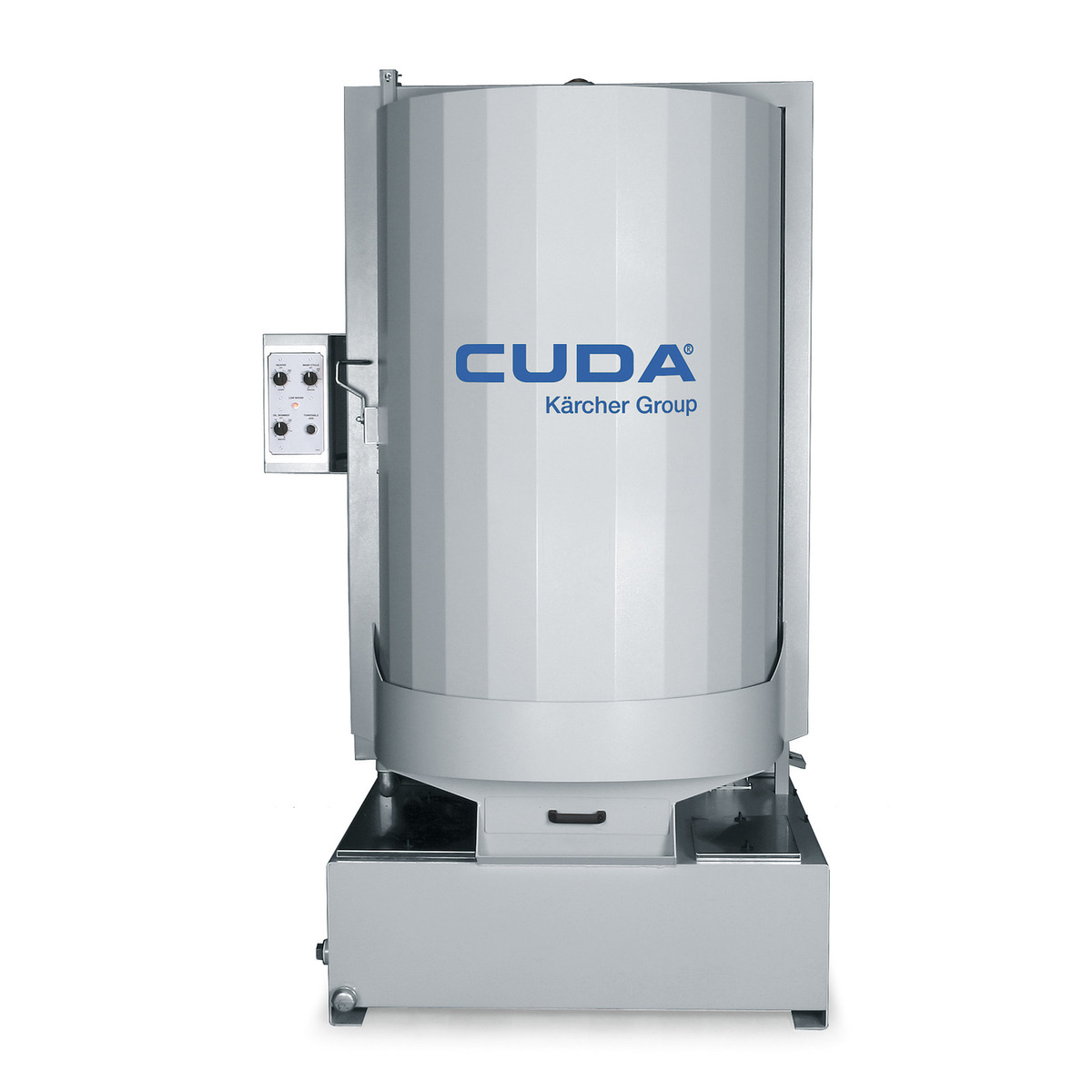 This front load washer is designed for the utmost efficiency. (Image Source: Karcher)
5 Check if a Scheduled Cleaning Program Is in Place
Regular cleaning is important to prolong the life of a parts washer. Check if your supplier can offer this to you. But, if in case you prefer cleaning the unit on your own, then find a washer that can be easily dismantled so you will have access to the parts that are hard to reach and clean.
6 Think About the Availability of Replacement Parts
Another important thing that you should think about when choosing a parts washer is the availability of replacement parts. Sooner or later, your parts washer is expected to have some wear and tear, no matter how much preventive maintenance work you put into it. Hence, it is important that its replacement parts are available and accessible.
Additionally, it will help your peace of mind if you can get your parts washer from a company that provides free and accessible technical support. Getting correct information on how to repair or troubleshoot your parts washer is vital in keeping your parts washer in top shape.
7 Ask for a Second Opinion
While you might already have an idea of what parts washer to select, it might still be too overwhelming, especially if you are buying one for the first time. So, getting a second opinion might help you. Make use of technology and search for online reviews regarding the brands, models, and types that you have in mind.
8 Consider PSI in Colorado Springs
And, if you need an expert's help to determine the best parts washer for your business, consider getting in touch with PSI Systems. You may visit the website and get to know more about available parts washers here.
Aside from parts washers, PSI Systems also offers other products such as pressure washers, waste oil heaters, detergents, and water recyclers from the best brands. We can also provide different services such as maintenance and repair, as well as pressure washer rental in Colorado Springs.
If you need to get in touch with the company, contact us at the toll-free number 1-800-660-3386 at PSI Colorado Springs 1-719-636-3388. We will be more than glad to help you find the perfect parts washer for you.