Detergents and Degreasers
Every cleaning product we offer is made to be used in conjunction with a large array of pressure washer applications. From mild auto detailing to heavy duty degreasing, we have a cleaning product that is perfect for you and the job!
We offer a complete line of biodegradable pressure washer detergents at cost-effective prices. Each is specially formulated for use with hot and cold water pressure washers.
High-quality pressure washer detergent extends the life of your equipment. you'll feel confident knowing that your power washer soap is working to prevent hard water and soap build-up, and fight corrosion in your equipment.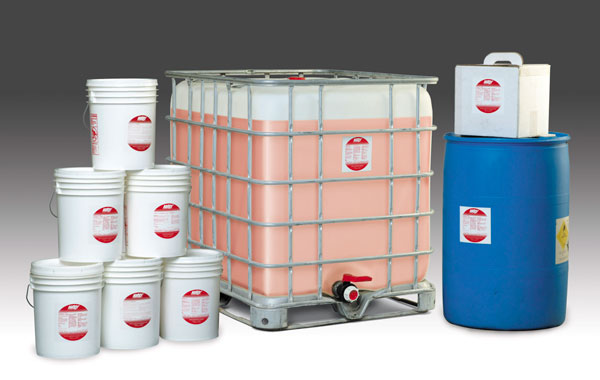 We find that many people are using far more pressure washer soap than they need to clean even the dirtiest jobs. If you feel you are using too much, ask one of our highly trained technicians show you ways to save time and money.
---


---
Hotsy Super-XL
An all-purpose detergent popular in agriculture, construction, transportation and food industries. It's safe on all surfaces, easy to use, low-foaming and free rinsing. Availability: 5 Gallon, 55 Gallon & Bulk Soap Strength: Low
Hotsy Breakthrough
This highly concentrated detergent is extremely popular and effective for tackling crude oil and caked-on buildup of fifth-wheel grease … yet it's gentle enough for fine finishes on cars and to use for general cleaning purposes. Availability: 5 Gallon, 55 Gallon & Bulk Soap Strength: Medium
Hotsy Carbo-Chlor
A special emulsifying formula with high-powered bleach for food processing plants. Excellent on tough odors, stains, dirt, oils and fats left behind on equipment, floors, and walls. Chlorinated for extra punch, it's also great for cleaning mold and mildew from houses, fences, decks, etc. Availability: 5 Gallon Soap Strength: Medium
Hotsy Ripper I
A highly concentrated, non-caustic cleaner for heavy equipment and trucks. This fast-acting cleaner is especially effective on off-road and grease-clogged equipment and great on hard-to-remove road film on tractor/trailers. Safe to use indoors and on painted surfaces. Excellent for cleaning shop floors and walls where inside cleaning is necessary. Availability: 5 Gallon Soap Strength: Medium

---
Landa Fleet Degreaser
A highly concentrated, butyl-based detergent with a precise amount of caustic to deliver a powerful cleaning punch. Ideal for heavy equipment, repair shops, sidewalks, parking lots, parts degreasing and exhaust stacks. Fleet Degreaser is biodegradable and phosphate free. Availability: 5 Gallon, 55 Gallon Soap Strength: High
Landa Heavy Duty Brown Degreaser
An aggressive detergent used to clean machinery and equipment to remove heavy daily debris of oil, light grease, sand, mud and road film. This detergent is safe to use on most heavy equipment however, due to its strength to handle heavy soils, it should not be used on aluminum, magnesium or fine paint finishes. Availability: 5 Gallon, 55 Gallon Soap Strength: High
Industrial Grease and Carbon Remover
Heavy-duty degreaser that quickly penetrates and cleans grime, spent oil and grease in a variety of applications, including vehicles, equipment, RVs, drilling rigs, trucks and other structures. This highly-concentrated blend is formulated to wet, penetrate and suspend soil, oils and grease and yet is safe to use indoors or outdoors on virtually every surface, including aluminum, stainless steel, glass, plastic, and painted surfaces. Availability: 5 Gallon, 55 Gallon Soap Strength: High
Hood and Duct Cleaner
Specifically designed to remove the dangerous build-up of grease in exhaust hoods of food cooking establishments. Through a hot water pressure washer, fast effective removal restores hood and ducts to a clean, safe result. Even carbonized grease. Hood and duct cleaner can be used to pressure wash foodservice grills, fryers, broilers and ovens as well. Routine cleaning is required in most cities and states and also by the insurance industry. Availability: 5 Gallon, 55 Gallon Soap Strength: High


---
Hotsy Aluminum Brightener
An easy-to-apply brightener for cleaning and restoring aluminum surfaces. Oxidizes aluminum to look like new with just one. DO NOT USE on glass or polished aluminum. A medium foamer that instantly removes welding smut. Formulated with Ammonium Bifluoride, not Hydrofluoric Acid, so it is safer to use and fumes less. Availability: 5 Gallon Soap Strength: High
Hotsy "99"
A highly concentrated formulation of non-fuming inhibited phosphoric acid and surfactants that remove concrete, welding smut, hard-water scale, rust, mortar, and diesel smoke. It is ideal for cleaning and descaling concrete trucks, metal surfaces, equipment, bricks and glass. DO NOT USE on polished aluminum. Availability: 5 Gallon Soap Strength: High

---
Landa Quick Release Detergent
A Concentrated heavy duty vehicle wash formulated to quickly and effectively remove dirt, grime, grease and road film from vehicles. It is ideal for vehicle wash facilities where it can be used on tractor-trailers, heavy equipment, RVs, trucks, and autos. Quick Release Detergent is formulated to pass through a pressure washer without damaging the high-pressure pump and has an oil-water quick-release surfactant making it ideally suited for use with water treatment systems. Availability: 5 Gallon, 55 Gallon Soap Strength: Specialty
Landa Shop Floor Cleaner
Formulated for heavy-duty cleaning of soils typically found in machine shop environments. Lifts and removes petroleum-based grease and oily soils from all types of finished and unfinished concrete, including painted and epoxy-coated floors. No-rinse formula is designed to remove soil and leave a streak-free finish. Developed for scrubber machines, this formula is non-foaming, phosphate-free and contains ingredients that protect the machine from scale and contaminants. For use with floor care equipment only. Availability: 5 Gallon, 55 Gallon Soap Strength: Specialty


---
Landa L-9140 Vehicle Wash
Unique blend of the latest generation of surfactants, along with water softening agents, to deliver highly effective penetration and cleaning performance. High-foaming and butyl-based; ideal for pre-soaking vehicles in car washes. Rinses quickly and cleanly. Availability: 5 Gallon Soap Strength: Strong
Landa Fleet Trailer Cleaner
A concentrated, non-etching, acid-based detergent formulated to quickly penetrate and remove grease, grime, dirt, road film and welding smut from polished aluminum and stainless steel surfaces. It shines aluminum and stainless by removing the oxidation that makes those surfaces dull looking. Availability: 5 Gallon, 55 Gallon Soap Strength: Strong