Waste Oil Heaters
---
RA/RAD Series Models 150 & 250 WASTE OIL HEATERS
Features and Benefits
Eliminates Or Reduces Heating Bill
User Friendly
Quiet On-board Air Compressor
Automatic, Precise Fuel Metering
Patented Oil-preheating System
Thermostat Controlled Operation
Easy Installation
Csa Certified To Ul Standards
10 Year Limited Warranty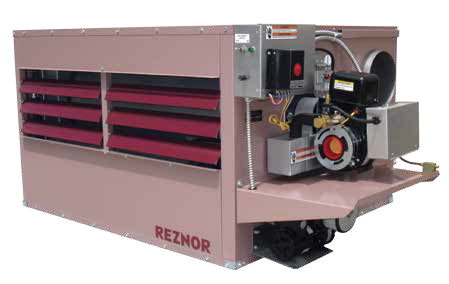 TECHNICAL DATA
Model RA (Fan-Type Unit Heater)
Model RAD (BlowerType Unit Heater)
Size
150
250
150
250
BTUH Input*
150,000
250,000
150,000
250,000
Oil Usage (Gal/Hr)
1.06
1.78
1.06
1.78
CFM .25" ESP - RAD only
—
—
1600
2850
Air Throw (9-ft suspension)
50ft (15M)
65ft (20M)
50ft (15M)
65ft (20M)
Fan Dia./Pitch & Blower Size
18-30°
24-28°
12-9
15-11
Flue Size (inches)
8
8
8
8
Approximate Net Wt (lbs)
320
370
360
430
Approximate Shipping Wt (lbs)
380
440
435
520
---

RV 225 & 325 Venrution Used Oil Fired Heaters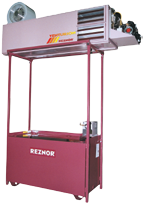 Recycling Center
In addition to ceiling suspension, unit may be supported on Heater Stands attached to the Model OT250 Workbench Fuel Tank. This complete Used Oil Recycling Center brings heat close to the floor, allows easy access to the heater and provides a convenient workbench area. Workbench Fuel Tank and Heater Stands are optional.

Metering Pump
Positive Displacement Pump, standard on all Reznor Heaters, meters oils of various viscosities for consistent combustion performance with no adjustments necessary. Reznor is the industry leader in controlled fuel flow delivery!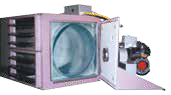 Swing-out Access
Easy access to full Combustion Chamber/Heat Exchanger, Nozzles & Electrodes, via Swing-out burner end of unit. Both ends open completely for quick, complete cleaning … the industry's easiest!

Operation Hour Meter
A quick reminder of your heat savings and unit maintenance requirements.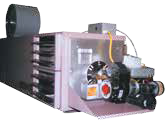 On-Board Air Compressor
The On-board Air Compressor with easily replaced Air Filter eliminates the need for expensive shop air, especially during after-hours and weekend operation. Turn off the big expensive compressor … you don't need it with a Reznor Heater!

Back-Flow (Ash) Sensor
A unique feature, only offered on Reznor Used-Oil Fired Heaters. Continuously checks for free flowing exhaust ventilation for uninterrupted heat. A positive reminder to clean unit.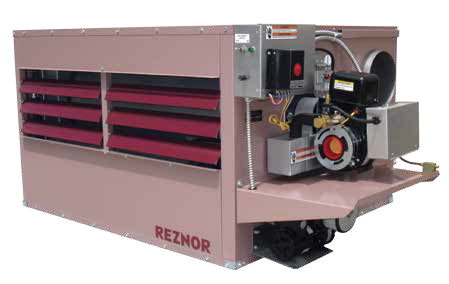 Model RV
225
325
Input Heating Capacity
BTUH (kW)
200,000 (58.6)
280,000 (82)
Nozzle Input
GPH (Liter/Hr)
1.43 (6.5)
2
Motor HP
1
2
AMPS Full Load
19
20
Air Volume (free air)
CFM (M

3

/min.)
2300 (65.1)
3450 (97.7)
Air Volume with .25" w.c. ESP
CFM (M

3

/min.)
2100 (59.5)
3200 (90.6)
Air Volume with .5" w.c. ESP
CFM (M

3

/min.)
2950 (83.5)
Air Throw @ 9 ft (27M)
ft (M)
70 (21)
95 (29)
Blower Size
12-9
12-9
Flue Size (inches)
12-9
12-9
Approx. Net Weight
lbs (kg)
360 (163)
475 (215)
Approx. Ship Weight
lbs (kg)
560 (254)
715 (324)
---
Buy a machine that can be serviced locally!!!