We are Southern Colorado's #1 Dealer for responsible wash water recycling!
Turnkey Options for New and Existing Pressure Washing Systems!!!
Now, more than ever, it is important to protect our environment from the harmful effects of wash water runoff. PSI Systems, Inc. is committed to cleaning in a manner that is not only environmentally responsible, but is also efficient and adheres to most municipal and environmental regulations.
Whether you are looking to install a Water Maze system in an existing or new wash bay facility, or you are a contractor who has to pick up the water you are putting down, PSI Systems, Inc. can outfit your business with the correct equipment.
---
Mobile Wash Water Recycling
The Revolutionary LANDA ECOS. Environmentally friendly mobile wash and reclaim system.
Honda GX660 engine and LANDA LT pump with 7 year warranty provides 4.7 GPM at 3500 PSI
4,000 watt generator produces 120v ac to power burner system and vacuum
Vacuum/Water Reclaim System comes with 50' of 2" suction hose and heavy duty non tipping scupper head
LANDA Duracoil with industry leading 5 year warranty heats water with efficient 120-volt burner system
Multi-Stage Filtering System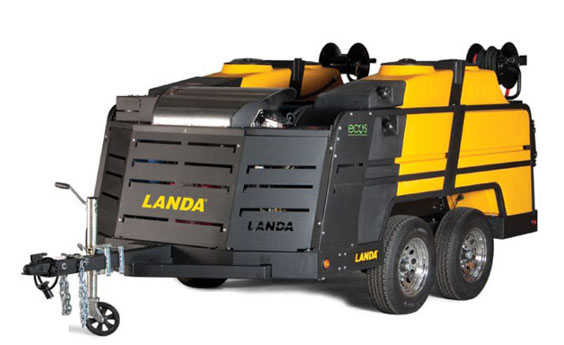 ---
Mobile Wash Water Recycling
CL Commercial Water Filtration Systems Treats and Recycles Industrial Wastewater
The CL Series is the most versatile and modular of the Water Maze wash-water treatment systems. The six models can stand alone or be matched with a Filter Pac III module (below) to serve as a solids separator, a treat-and-discharge unit or a recycle system
The CL-30, for instance, can pre-treat wastewater as a solids separator.
The CL-600D is designed to treat and discharge wash water to the sanitary sewer
The CL-603 models are full recycling systems when matched with the modular Filter Pac III
The CL, CL-600 and CL-603 models also have an optional ORP/pH Controller for monitoring and controlling pH and injecting sanitizers as well as acid/base stabilizers
The CLT-300 and CLT-600 are cone-bottom tanks (300 and 600 gallons) that can be used as a pre-treatment or post-treatment auxiliary tank
---
CLB Biological Wastewater Treatment, or Bioremediation Effective in Treating Industrial Wastewater
The Water Maze BioSystem or CLB series employs the latest bio-technology for treating and recycling a broad range of commercial and industrial wastewater, including golf and turf applications where there's a high organic content in the waste stream.
The CLB's unique design features modular components so the system is customized to match each customer's application requirements as well as to keep the equipment cost and performance to only what is truly needed. Moreover, the systems are automated for ease of maintenance.
Water Maze's advanced bio-technology features super-efficient aerobic microbial digesting, enhanced water circulation, injection of cultured microbes at concentrated levels and the introduction of a special microbial nutrients blend. Unlike filtration systems, which create a sometimes hazardous sludge, the BioSystem naturally converts organic contaminants—such as oil, grease, etc. that are common to wash water—into harmless water and carbon dioxide.
---
CLP Wastewater Treatment System Ideal for Most Pressure Washer Applications
Water Maze's CLP mechanical filtration systems are the standard in the high-pressure cleaning industry for automated wash-water recycling. All are totally automated using a digital sequencer to monitor and control the system's functions including filtration, recirculation, filter backwash and sludge discharge.
Other CLP feature include:
Industrial-grade ultraviolet ozone generator
1/3 to 1/2 hp submersible and filter pumps for maintaining high flow rates
185 - 490 sq. ft. of cone-shaped coalescing plates for optimum separation of oil and solids from wash water
Convenient, automated, mess-free method of disposing of sludge from the system
Up to 320 lbs. of auto "backwashable," degassed, virgin activated carbon
Optional 200 to 500 sq. ft. of cleanable, polyester, 5- or 20-micron filter elements.
---
---