Essential Pressure Washer Tips for Winter
October 30, 2019
Yes, the weather might be freezing but that does not mean you have to neglect your residential or commercial space. There are a lot of homeowners or business owners who opt to skip pressure washing in the winter. But even with the cold temperature, there are instances wherein you would need to hire the services of commercial pressure washing in Colorado Springs. When it comes to protecting your business and investment, it knows no seasons. This is true if you want to be able to maintain business even during the cold winter months. In fact, quality pressure washing might be even more essential to maintaining your commercial or business space.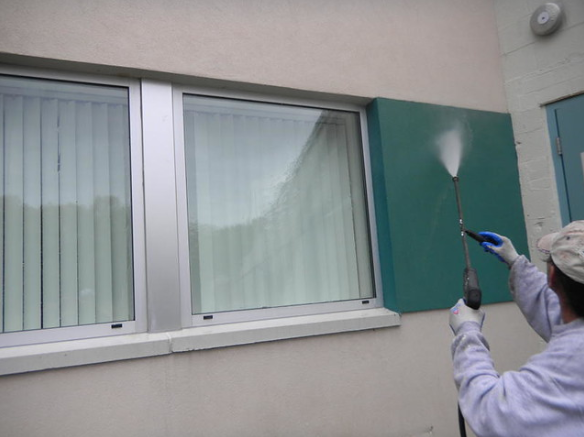 Pressure washing tips for winter. (Image Source: Flicker)
When you (or you hire commercial pressure washing in Colorado Springs) take on this cleaning job during winter, there are tips and precautionary measures to take. Learn about what these measures are and how you can ensure that you can maintain your commercial space throughout winter.
Tips for Winter Pressure Washing
Follow these tips when you hire a pressure washer for use on your commercial or residential space during winter:
Make sure you are protected from the cold. Before you think about the pressure washing machine or all the other elements, you need to worry about the winter's harsh climate. Make sure that you are appropriately dressed when pressure washing outside. You might not feel cold when you are actively moving around outside. But frostbite and hypothermia are real threats when you are exposed to extreme cold in the winter. Always wear a hat, gloves, and other warm layers. Make sure you wear an external layer or pants that are water-resistant. If what you are wearing can absorb the water, it can make you feel extremely cold and lead to hypothermia or frostbite. Make sure there you have no exposed skin.
Protect your pressure washer. Once you are fully protected from the winter cold, the next step is to think about your equipment. You have to keep in mind that cleaning chemicals will be less effective during the cold weather. You can either use extra cleaning liquid or mix a powdered cleaning chemical with hot water pressure washer. When not in use, make sure that your chemicals are properly stored to avoid freezing.
Make sure you clean your pressure washer thoroughly after use. When there is water left inside, it can expand due to the cold weather. When the water inside the pressure washer turns to ice, it can lead to serious damage to your equipment. The same is true of liquid cleaning chemicals, as well. Use an antifreeze or windshield washer fluid to ensure that the equipment is thoroughly cleaned after use. And when you are done cleaning, make sure to store it inside. Never leave a pressure washer machine outside to freeze.
If you own a commercial space, you can set up a permanent or temporary wash bay. This will serve as on-site installation for the safe keeping of your equipment, which includes the pressure washer unit. If you have no budget for this, just make sure to store the equipment in a warm, dry place.
The gasoline that is used to run your pressure washer needs to be stabilized. You might need to add a stabilizer to the fuel tank so that the gas won't clog the fuel lines. Follow the instructions on how to use on your stabilizer and then let the pressure washer engine run for a few minutes. This will enable the stabilizer to circulate throughout the system. When you're done, make sure to shut it off completely.
Work smart. Choose the ideal time of day to do the pressure washing, which is in the middle of the afternoon. It is also a good idea to use hot water (instead of cold) pressure washer for winter to ensure an effective cleaning job. Otherwise, the water will only freeze and you won't be able to clean out the surfaces. The ideal water temperature you should use for pressure washing in the winter is at 180-200 degrees. While the machine is in use, make sure that the piping and faucets are properly covered using a heat tape. If possible, you might even want to use freeze-proofing valves to keep the equipment running.
If possible, use a pump saver. A pump saver is designed to prevent moisture from forming on the pump of your pressure washer. It can also prevent the buildup of mineral deposits. Apply the pump saver through the hose inlet of the pump until the chamber is full. Let the chemical sit there throughout winter but make sure you drain it before you use the equipment again for spring. This tip is applicable only when you intend to store your pressure washing machine throughout the winter.
Check your fittings. Depending on your location, it is quite common for outdoor sources to freeze during winter months. You need to anticipate this and make sure that you have access to indoor fittings. That way, you will have another option in case the outdoor fittings did, in fact, freeze.
Winter pressure washing tips (Image Source: Unsplash)
Looking for the Number 1 in Commercial Pressure Washing in Colorado Springs?
Are you looking for the best commercial pressure washing in Colorado Springs? At PSI Systems Inc, we can provide the professional quality cleaning solutions you need. We understand that keeping your commercial space in top condition is part of your investment for the business. That is why we offer our pressure cleaning solutions to match your needs. Whether you want to buy your own equipment or rent a commercial pressure washer, we have you covered.
We use only the best brands of pressure washers to guarantee quality. You can also visit our photo gallery so you can see what type of equipment we use. For equipment that you can count on, trust no other name in Colorado Springs area than PSI Systems. If you have any inquiries, do not hesitate to call us at (719) 636-3388. If you would like to talk to an equipment specialist, you can email rudy@psisystemsinc.com or visit us at 5950 Omaha Blvd # 100, Colorado Springs, Colorado.