Here's how you can choose the right pressure washer nozzle, according to commercial pressure washing Colorado Springs specialists
February 13, 2019
With the right commercial pressure washing Colorado Springs tools, cleaning surfaces will never have to be tedious ever again. So, it's vital to choose the right equipment to help you remove dirt and grime that has stuck to the floor or walls for a long time.
The wrong choice of pressure nozzle spells the difference between a good or bad pressure washing job. If you're washing a car, there's a huge possibility that the paint would peel off with the wrong nozzle. If you're washing a driveway, the water could punch through the mortar.
This is because the nozzle you choose will indicate the pressure a washer exerts when pushing water out of the equipment. What if you choose one that ejects a strong pressure?
To avoid problems, here are factors you must consider:
Nozzle blast, color, and purpose
1) 0-degree, red, blast
Sends a blast of water directly to the surface. It's rarely used because it only cleans a small surface area at a time.
Specifics
Hits an area the size of a quarter coin
Doesn't fan or sheet out the water spray
Takes forever to clean even a small area
Suitable for blasting off a tough cake of mud, rust, and stains on high strength concrete
2) 15-degree, yellow, stripping
It sprays water at a wide 15-degree angle, covering a wider surface than the red-tip nozzle would.
Specifics
Pressure is decreased since its force is spread over a 15-degree wide area
Used to wash areas that will be painted
Can remove tough mud and dirt when used from the right distance
3) 25-degree, green, lifting
Best for pressure washing Colorado Springs specialists recommend to lift dirt and clean surfaces.
Specifics
Sprays water at 25 degrees wide
Pressure is decreased as the force is spread over a large area
Most commonly used pressure washer nozzle around the home
Cleans a bigger area faster
4) 40-degree, white, spraying
Providing the most gentle spray, it is often used to clean windows.
Specifics
It must be held at a right distance so as not to cause damage
Also used to clean blinds and other fragile surfaces
5) 65-degree, black, soaping
Use primarily for soaping surfaces.
Specifics
Comes with a large orifice that increases pressure in the hose but decreases velocity
Increased pressure pulls soap/detergent into the line
Covers a wider area at 65 degrees
6) Turbo/rotary nozzle
This particular pressure washer nozzle combines the blasting power of a red-tip nozzle and the lifting ability of the green-tip nozzle. Rotation adds in the pulsing action.
Specifics
Spews out a water jet at 1,800 to 3,000 rpm.
Creates a round-cone shape when the water hits the surface
Know how each nozzle type is used from a commercial pressure washing Colorado Springs provider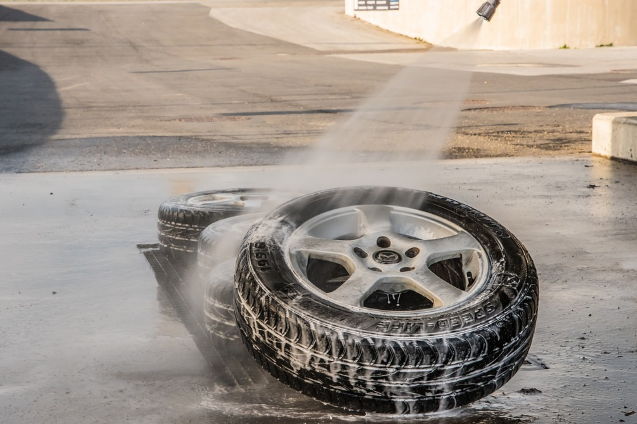 **1) 0-degree, red, blast **
Clean corners of driveway, patio, and tiles
Use to remove hard and tough grease, oil stains, etc.
Clean high or hard-to-reach areas
2) 15-degree, yellow, stripping - Cleans dried oil, mud, and grease stains that are tough to remove.
3) 25-degree, green, lifting - Cleans tiles, bathroom, kitchen, walkway, and cars.
4) 40-degree, white, spraying - Removes dirt from floor, car, motorbike, and other delicate stuff.
**5) 65-degree, black, soaping **
Washes off normal dust
Use after soaping an area
6) Turbo/rotary nozzle - Cleans floors (tile or mosaic), patio, roof, etc.
Now that you know what each type of nozzle is capable of, choosing the right one should be easy. Just to be safe, however, start with a nozzle that has a wider angle and test the pressure on a small surface area. This way, you're sure that you made the right choice. Remember to keep your distance as well.
Need help with your commercial pressure washing needs?
Get in touch with PSI Systems Inc. We not only offer financing and pressure washer trade-in Colorado clients trust but also sell pressure washers, parts, and accessories, including nozzles.
Don't hesitate to contact us for more information about our products and services.