The Ins and Outs of Deep Cleaning for Your Commercial Establishment
May 13, 2020
First impressions always count – and the same can be said about your business establishment! The exterior look and feel of your office building, retail store, or warehouse reflects a lot, therefore it should also be considered when you're building your brand.
If you want to attract more customers and have them trust your business, build a good impression by maintaining the cleanliness and sanitation of your storefront. Not to mention, the build-up of dirt, debris, and grime will be damaging to your property in as fast as a few weeks. Because of this, it is important to have deep cleaning as one of the top things on your to-do list for your business.
But first, what is Deep Cleaning really?
Deep cleaning is simply cleaning an area or a thing thoroughly. There are two types of deep cleaning services available today: residential and commercial. As you can tell, the former entails small, everyday errands like cleaning floors, bathrooms, patios, bedrooms, kitchens, and other parts of the house thoroughly. This type is much more detail-oriented since every home has different needs.
The latter involves bigger tasks that are done only a few times annually. These can focus on different areas such as:
Window washing
Power/pressure washing
Furniture and upholstery deep cleaning
Tile and grout deep cleaning
Hard surface brick or concrete floor deep cleaning
Benefits of deep cleaning is more than meets the eye. (Image from Freestocks)
What are the Benefits of Deep Cleaning?
What do hospitals, restaurants, malls, and car showrooms have in common? They all cater to customers who walk into the premises of the business itself. This means the exterior of these business establishments can affect the impressions of these customers. This can have a huge impact on the decisions of your clients, so you as a business owner should pay attention to this aspect.
Keeping your business establishment presentable isn't only for your customers, it is also for your own competitive edge and success. But how exactly does deep cleaning help you with your success? Listed below are some of the prime reasons and undeniable advantages of investing in renting equipment from pressure washing Colorado Springs experts for deep cleaning your commercial property:
#1 – Deep Cleaning Saves You Money
How you may ask? Things like mold, dirt, grime, and other common effects of wear and tear brought about by withstanding weather conditions and other damaging elements are not only unsightly, but also can become a serious problem in the long run.
When you just let these things be and put off cleaning, they will lead to permanent and serious damages to your property. So, you can save money by skipping major repairs and instead maintaining deep cleaning of your commercial property to get rid of these damage hazards.
#2 – Raise Employee Morale and Sanitation Standards
In short, it keeps your precious employees in check with their health and safety. Your employees are the ones operating and making your business grow from your establishment so you owe it to them to provide premises where they will be safe.
Slip and fall incidents on the brick pathway outside, allergies and breathing problems from a defective HVAC system, and other health hazards are present when you neglect deep cleaning your commercial building. To get rid of these dangerous elements in your employees' workplace, you can arrange pressure washing in Colorado Springs to help you keep your employees safe and healthy.
#3 – Deep Cleaning Enhances your Commercial Building's Aesthetics
Your shop's exterior represents your brand, so why not enhance it? It is a known fact that one of the most effective marketing tools a business can have is their brick and mortar shop's aesthetics. When your shop is neat and orderly and visually appealing all while carrying what your brand stands for, you will be able to attract the customers you want and, in turn, improve your sales figures.
Don't let your business establishment show any sign of neglect and deterioration! Deep cleaning on a regular basis gets rid of this possibility. Hire the right experts and you're sure to increase the foot traffic and curb appeal of your commercial premises.
#4 – Rely on Experienced Experts to Do the Dirty Work For You
This is included in the list of benefits because you're not necessarily alone in your journey to building a better business. We know that entrepreneurship itself is very challenging and demanding.
Fortunately, you can hire seasoned experts with deep cleaning equipment like pressure washing Colorado Springs rentals and services. Not only will hiring us save you time and resources, but you can also channel your efforts towards growing your business, while we deep clean and maintain your commercial building for you – and nothing is more valuable than that kind of peace of mind.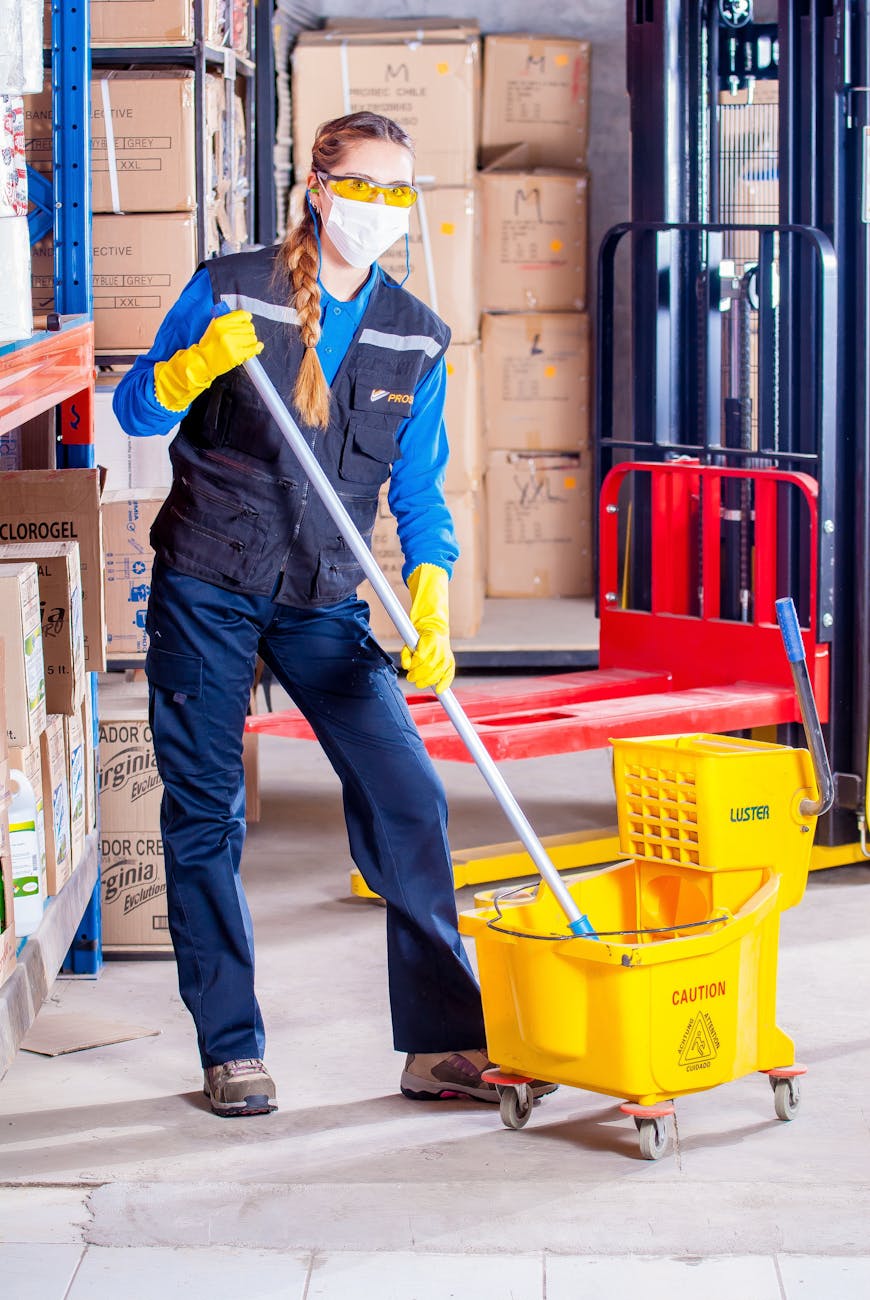 3 Common Mistakes You Make in Commercial Deep Cleaning
Mistake #1: If it looks and smells clean, it's clean.
This is basically how people judge cleanliness, but it takes more than that to make sure the area is really clean. Never forget to sanitize and use products that have antibacterial and germ-killing properties.
Mistake #2: Using the wrong cleaning products for a certain area.
Yes, there are some cleaning agents that may be inappropriate to use in some areas in your storefront. For instance, some chemical detergents might cause health complications like infections or allergies, so they shouldn't be used in places where people stay for a long period of time like your employee's cubicles. Always make sure to verify the cleaning products you will be using.
Mistake #3: You can clean it once and it's done.
Although deep cleaning certain areas of your commercial building is scheduled monthly, it is still important to clean and maintain them every day. Daily cleaning and sweeping around your storefront should be mandatory.
Are you in need of pressure washing in Colorado Springs for your next deep cleaning schedule? You can call us at PSI Systems Inc., PSI Colorado Springs to provide you with all your pressure washing needs.
We have been the #1 choice in Colorado Springs for residential or commercial pressure washing since our company was established in 1985. We also carry other deep cleaning repair and maintenance or equipment rentals such as waste oil heaters, parts washer, and home and garden equipment from world-class brands such as Hotsy, Karcher, Landa, Watermaze, and more.
Learn more about our company and what we have to offer for your business. You may reach us via phone at (719) 636-3388. We serve Colorado Springs and Denver areas.