Recommended Pressure Washer Brands for Small Offices
September 23, 2020
Pressure washers provide convenient, efficient, and powerful ways to clean homes and business premises, and they can make all the difference in cleaning outdoor spaces. However, like any other machines, they require proper storage and maintenance. This means that those who live in small houses or are renting offices with limited space need to be wise in choosing the right pressure washer.
It's also important to note that pressure washers are powerful cleaners, so you have to ensure that you'll buy or rent a machine that suits your cleaning needs and won't damage your property. For instance, if you're looking for a pressure washing machine to clean large commercial or industrial spaces, then you definitely need a commercial-grade Landa pressure washer. On the other hand, if you'd like to get a machine that can help you clean your roof or car, you'll want to choose a small pressure washer.
Small pressure washers have the same functionality as their larger counterparts. They can still efficiently clean various surfaces, although they are smaller in capacity and cleaning power. One of the best things about them is that they're easier to store and carry around due to their compact size and weight, making them an excellent investment for small offices. They're also lighter and quieter and, since they're easy to use, they're the ideal option for people who don't have much experience with operating pressure washers.
However, not all pressure washers are created equal. Because of this, you must do your research to find a quality washer that meets all your needs and will give you excellent value for money. If you're looking for a small and portable pressure washer, check out our quick list of the best pressure washing machines for small offices in the market right now.
Best Industrial-Grade Small Pressure Washer: Landa Stainless Steel Series - Cold Water Electric Pressure washer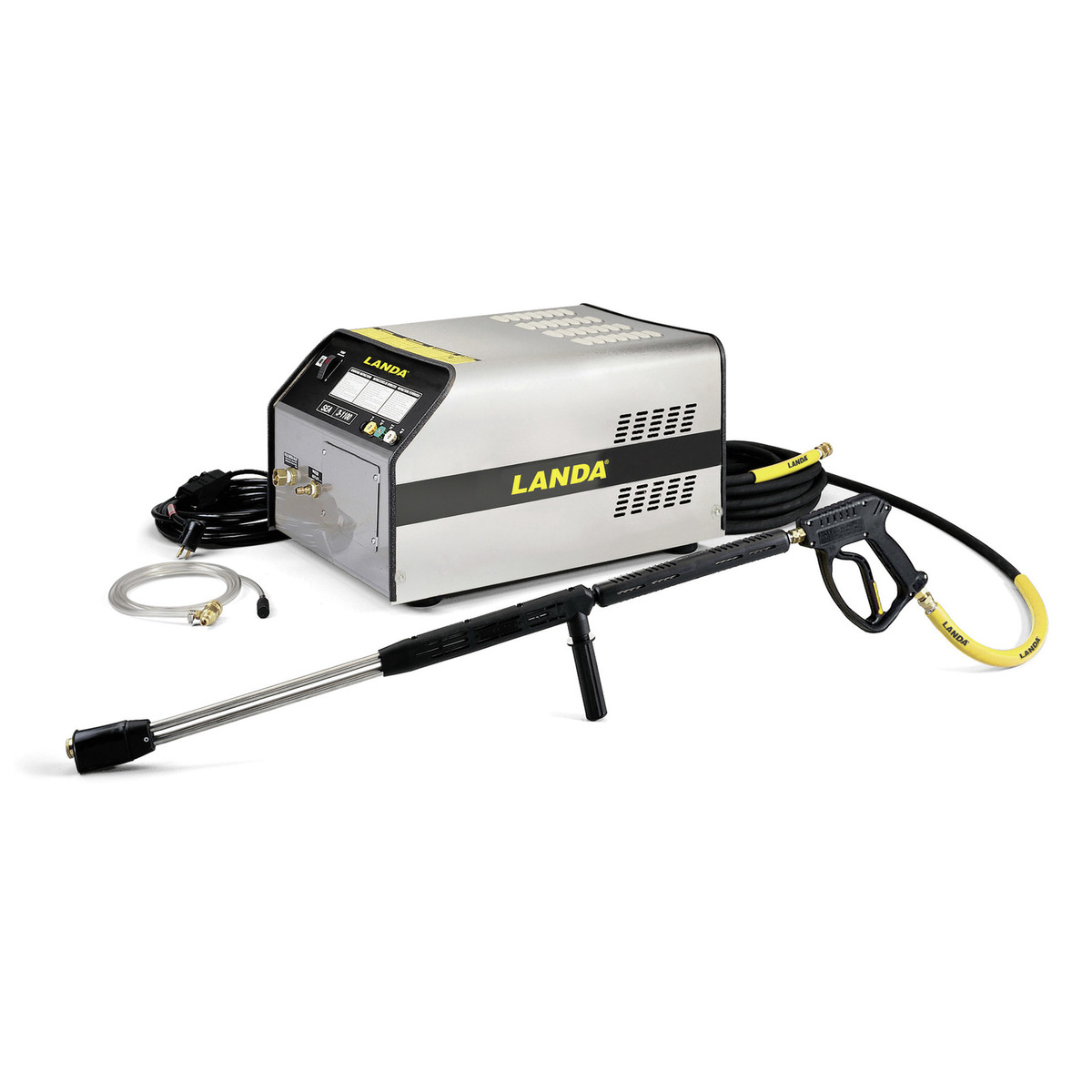 (Image Source: LANDA)
If you're looking for an industrial-grade pressure washer for heavy-duty cleaning, this unit is one of the best you can get. The top-of-the-line stationary cold-water pressure washer is available in both mild steel and stainless steel cabinets, so you only have to pick an option that works well for you. This unit is ideal if you want to thoroughly clean indoor spaces and surfaces.
Features and Specs:
Easy Force Trigger gun – zero effort needed
Available in mild steel cabinet or stainless steel
1000 PSI
2.5 Flow rate
205 lbs.
Can use hot water of up to 185º F
Optional LanCom Remote
Optional wheel kit
With 7-year warranty
This pressure washer may not be as light or as compact as other products on the list, but it is by far the most powerful. It comes with a standard insulated variable pressure wand, a time delay shutdown feature, and a LanCom wireless remote control that allows users to work up to 300 feet away, along with many other convenient add-ons. There are also wall mount bracket and floor stand assemblies as well as an optional wheel kit for added mobility.
Best All-Around Compact Pressure Washer: Sun Joe SPX3000 Small Electric Pressure Washer
It's arguably the best pressure washer on this list, and rightfully so as it is a highly rated small pressure washer. Sun Joe SPX3000 is compact, lightweight, and extremely easy to use with simple controls. As a matter of fact, it's one of the most popular and well-loved small pressure washers in major online retailers, with thousands of positive reviews. This pressure washer is designed for easy and thorough cleaning of driveways, decks, patios, walls, and even your cars and RVs.
Features and specs:
Made of metal and plastic
Power cord length: 35ft
Product dimensions: 15.6 x 13.5 x 33.9 inch
High pressure hose length: 20ft
Volts: 120v / 60Hz
Wattage: 1800W
Flow rate: 1.76 GPM
Basic working pressure: 1450 PSI
Max pressure: 2030 PSI
Tanks: 2 0.9L detergent tanks
Max water temperature: 104˚F
5 interchangeable nozzles
Safety Automatic Total Stop System – automatically turns off the machine when the trigger is not engaged
What people love most about this pressure washer is its low noise level. However, just because it's quiet doesn't mean it isn't effective! The Sun Joe SPX3000 is actually extremely efficient in blasting away dirt, mold, and grime and, since it's a light and compact machine, it allows users to clean their property with so much ease.
Best Water-Saving Small Pressure Washer: High Pressure Small Power Washer by Annovi Reverberi
This is another highly-rated pressure washer that can be the perfect fit for your small space. As with any other pressure washing machines, this one can easily remove the most stubborn dirt and toughest grimes. It has a long power cord that can help users reach and clean even the tightest nooks and crannies.
Features and specs:
With 4 different Quick Connect pressure washer nozzles (25º nozzle, 0º nozzle, rotary/turbo nozzle, and low pressure spray soap nozzle)
With Quick Connect garden hose adaptor
30ft high pressure hose
35ft power cord with auto-reset GFCI module
1900 PSI
Weight: 33 lbs.
Integrated 48oz detergent tank
With 1 year bumper-to-bumper warranty
US-based customer service (email or phone)
This pressure washer may be one of the expensive ones in this list. However, it can definitely help you save money in the long run since it lets you use up to 80% less water than your ordinary garden hose. The machine itself is easy to put together and is safe for most furniture, vehicles, and various surfaces.
Best Budget Small Pressure Washer: Greenworks 13 Amp Mini Pressure Washer
If you're looking for a small, compact, and budget-friendly pressure washer that's also highly capable, you should definitely check out this one from Greenworks. It's designed for home and even business cleaning needs and is an ideal option for small offices and spaces.
Features and specs:
Smooth and easy plug-and-go operation
Small and compact
Less noise than most pressure washers
2 high pressure nozzles
20ft high pressure hose
35 ft power cord
With attachable detergent bottle
1600 PSI
1.2 GPM
You can use this washer either horizontally or vertically, depending on your cleaning needs. This machine is more than capable when it comes to cleaning various surfaces, including patios, sidewalks, furniture, and more. Also, don't be fooled by its affordable price tag — it's a high-quality brand that can last for a long time.
That's your quick roundup for best small, compact, and lightweight pressure washing machines for small offices! We hope that this guide has provided you with all the information you need to make a smart buying decision and purchase a small pressure washer that perfectly fits your needs. If you're looking for heavy-duty machines for deep cleaning large areas, or commercial and industrial-grade power washers, make sure to check out the Landa pressure washer. It's one of the best brands out there, with more than 40 year of experience in the industry.
Where to Find Landa Pressure Washer and Other Brands
Are you in need of a pressure washer to maintain and clean your office space? Look no further as PSI Systems Inc is the go-to option for all of your pressure washing needs in Colorado Springs. Our solutions include equipment rental and service or repair of your pressure washing units. We also provide a wide range of brands to choose from that are considered the best in the industry, such as Hotsy, Reznor, Watermaze, and Landa pressure washer.
Call us via our toll-free number 1-800-660-3386 if you want to speak to an equipment specialist.